TrailDorado Philosophy
10.08.2013 21:53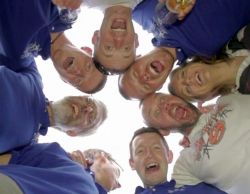 Or: we need your help to get the best out of it!
From the begin on we communicated that TRAILDORADO is planned as a community event. We had the idea and spend many but many hours of our free time to organize the event. We do not plan to make big profit but of course want to avoid run up depts. The overall feedback so far is very positive. People love the TRAILDORADO idea and that's great!

But to make it really successful, it depends on you, too. Here is some ideas on what you can do to help us all get the best out of it.

1) Those of you who want to be part of TRAILDORADO should sign up as soon as possible (be aware: latest by end of august, if then space is still available). This helps us plan the required resources and it helps getting the best for you, e.g. high quality equipment for tombola etc..

2) The last weeks were tough, mainly because lead organizer Michele Ufer had to face a severe illness in the close family. He has to spend more time on family issues the next months so we really appreciate if some of you help organizing the event the next weeks.

3) If you have experienced a great race or whatever adventure, you can show up with your pictures and stories for a lecture. In exchange you then get a free access to all other lectures and workshops. Interested? Send us a mail!

4) If you are a musician, bring your instrument. If you know a band, ask them to bring their beat to TRAILDORADO and make some crazy runners happy. Just tell them about our event and put them in contact with us.

5) We need volunteers for the event weekend! It will be tough and it will be very fun. If you want to be part of a "family" that put's a great idea into a "1st Edition" practice you are more than welcome. We want to get some goodies for you (like nice event shirts), of course, and in your rest time you have free access to all activities but main focus definitely is on "help getting the things done". Interested? Write us a mail!

6) If you do not have time for TRAILDORADO this year, do not worry. We will be back next year, that's for sure.

7) If you have already signed up or will do so the next days, once you show up at TRAILDORADO land, please put yourself in a good mood, stay open-minded, flexible, relaxed and…
Keep (s)miling!