The Location
Spot Description, Lodging, Travel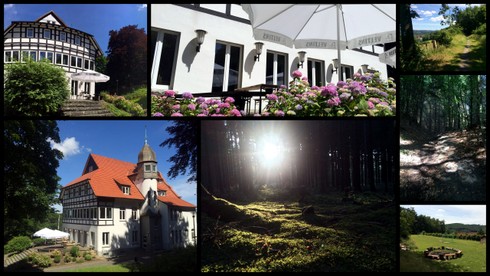 Welcome at our "TrailDorado Castle"
Our base camp is like a kind of manor house or, according to Bernd Nuss, the organizer of another famous 24h race : "the TRAILDORADO castle".
We have chartered for you the complete "SGV-Jugendhof" estate, an educational institution of the Sauerland Mountain Club, that has 4 hectares of its own forest and park with a large sports and playground. The area lies at the foot of a mountain slope in the south of the town of Arnsberg, on the extensive woodlands of the hilly "Arnsberger Wald Nature Park".
The Arnsberg Forest is one of the largest contiguous forest areas in Germany, the most important local recreation area in NRW and ideal for extended running, hiking and MTB tours. By the way, our trail challenge briefly touches the "Ruhrhöhenweg", which leads through the hills and forests from the Ruhr spring to its estuary. And for those who want to take a break in between and go for a little excursion, our location offers numerous possibilities and is only of short distances to the city, the Möhne lake, various caves etc.
The spot is a great location for athletes, lecture guests and accompanying persons who want to enjoy a nice short holiday.
Overnight Stay
The price for the overnight stay in our event location right next the course is only 31 EUR per person, incl. breakfast and bed line (shared room)! This is very cheap, very comfortable for a 24h race and even recommended for the ambitious runners among you! You can also book overnight stays for accompanying persons. If you are interested, please book DIRECTLY with the SGV Jugendhof. The house is completely blocked for us. Therefore, if you call, fax or e-mail them, let them know that you are a TRAILDORADO participant.
If the house is fully booked, a tent can be set up on the meadow next to the track for an additional 5 EUR. In addition, there are numerous other accommodations available nearby. The SGV will help you find a place.

Contact
SGV-Jugendhof
Hasenwinkel 4 · 59821 Arnsberg
Telefon (02931) 52 48-25
Telefax (02931) 52 48-27
E-Mail jugendhof@sgv.de
How to find us
Public transportation:
Arnsberg railway station (NRW), from there by bus in the direction of the hostel. The bus station is only a few minutes' walk from the house.
By car:
From Dortmund:
Take A44 direction Kassel, A445 and A46 to Hüstener Str./B229 in Arnsberg, on A46 take exit 65-Arnsberg-Altstadt. Follow Hüstener Str./B229, Altes Feld to Hasenwinkel.
Early arrival is recommended.