The Location
Spot Description, Lodging, Travel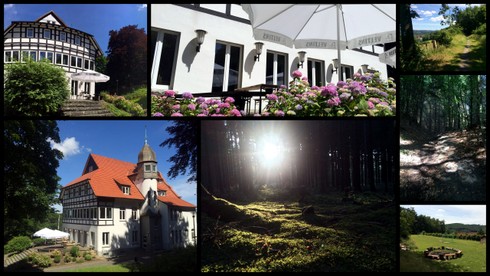 Welcome at our "TrailDorado Castle"
For our 2015 edition we found a new basecamp and Bernd Nuss, a good friend of us and organizer of another famous 24h race, said: "Oh, looks like a Traildorado Castle". We like that point of view.
We have chartered the complete "SGV-Jugendhof", an educational institution of the Sauerland Mountain Club, which has 4ha own forest and park with a large sports and playground (incl. Adventure playground). The area lies at the foot of a hillside south of the city Arnsberg, which is a getaway to the extensive forests of the hilly "Arnsberg Forest Nature Park".
The Arnsberg Forest is one of the largest contiguous forest areas in Germany, the most important recreational area of ​​NRW and ideal for long running, hiking, mountain bike tours. The city centre, Lake Möhne, various caves are only at a short distance from our basecamp.
The new spot is a great location for runners, lecture guests and accompanying persons who want to enjoy a really nice weekend.
The rates for staying in our TRAIL DORADO Castle are very low. Fore more Information see: Event Fees