Ready to rumble 2014!
09.03.2014 12:16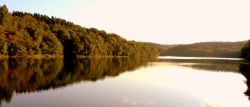 New spot. Great ideas. And on 15th march we start the official registration.
Finally we are ready to go. The day before yesterday we got a positive decision by the official "Ruhr Regional Association" for our event at a new location. We have opened an even better location for our 24 Trail Running Party.
The superb trail spot Glörsee!
in the forest and by the lake shore, jumping in is permitted (required)
Campfire next to the athletes catering
beautiful running and hiking routes
has its own disco and several group rooms, which we will need.
great lakefront trail for visitors
And, we will remain faithful to us: TRAILDORADO will continue to be familiar, small and exclusive. So space is limited!
Join. Spread the word! Sign in.