Sensation at TrailDorado
14.07.2014 10:59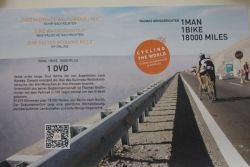 Movie premiere about the fastest world cicumnavigation on a bike
We have terrific news for you:
Many of you still remember that last year we started our TRAIL DORADO weekend with the fantastic movie premiere "Marathon at Mount Everest - The highest 42,195km in the World" Movie Info
Now we all understand that such TRAIL DORADO movie premieres unfortunately not arbitrary continue ... or maybe yes???
Last week, Michele has an exciting conversation with the globetrotter and extreme endurance athlete Thomas Grosserichter. One of the results is that we will see the premiere of his 90-minute documentary about the fastest world circumnavigation at the TRAIL DORADO weekend in october.
Absolute madness!